When Bolu is mentioned, Abant or Abant Lake comes to mind. However, both Bolu and Abant have at least as beautiful and magical values ​​as Abant Lake. Bolu has many cultural, natural or artistic values. In short, we will talk about how you can diversify your Abant trip with other beauties of Bolu. However, our main route is of course Abant!

1 - Bolu
Bolu,which is located in the Western Black Sea, is the escape point of people from big cities with its clean air and nature, promises a nice trip. Here the list of visiting points we will make by keeping Abant separately: the famous Bolu houses, the Bayezid Mosque, which is one of the most valuable of the city, the Bolu Museum that sheds light on the history of the region, the Victory Tower which has survived undamagedly since 1923 and the must-see route of the winter months is the Kartalkaya Ski Center. Bolu, which is visited frequently because of its proximity to big cities like Istanbul, is also remembered with various taste-stops and shopping routes. Bolu has gained popularity with the reputation of cooks, so we should travel to Bolu as a gourmet and we should eat according to him. For example; you cannot leave the place without eating Bolu ravioli. However, other famous dishes can be listed as follows: 'pumpkin pancake', 'Mengen pilaf', 'Palize', 'pumpkin kompote with grapes' and 'cat buoyant'.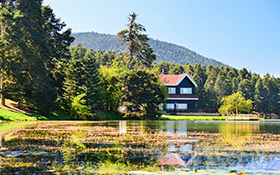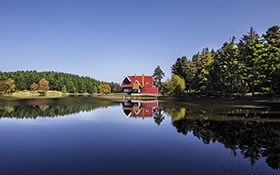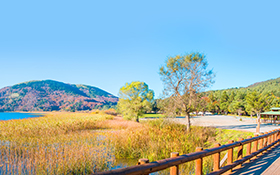 2 - Abant
Let's come to our precious Abant. Abant is a magnificent area with mysterious nature formations. Although Abant is always recalled by Abant Lake, we are talking about a much wider area and there are so many places to have a rest. Abant Lake is spread over an area of ​​125 hectares and is located in the Abant Nature Park, which is 1197 hectares in total. This wooded area between the Abant and Keremali mountain ranges is a complete miracle of nature. Ormedji Plateau is another important natural beauty of Abant. This is the area you can prefer for camping and picnic, also suitable for hiking and photography. Sinekli Plateau is the right address for those interested in trekking, safari, scouting, camping and cycling trips with an area of ​​100 decares. It will be great if you have caught Sinekli Plateau Festival in July. Another place to see in Abant, which is a land of water geography, is Samandere Waterfall Natural Monument. Samandere Waterfall has been receiving many visitors since 1988. This place, which hosts a lot of monumental trees, is a popular choice for those who want to have a camp.

We have a suggestion for those who are attracted to the beauty of the waterfall- Güzeldere Waterfall. Here, the water pouring through the green leaves a miraculous feeling on people. You can also choose this area for camping and nature walks and breathe the unique atmosphere of Abant. Akkaya travertine as a different stop we should mention. This beautiful spot resembling Pamukkale is a new favorite for visitors with its untouched structure. Especially in the hot summer months, the pool at the highest point of the travertine is quite interesting. Finally, let's talk about a shopping route you can visit during your Abant trip- Abant Village Bazaar. Here you will learn to see Bolu's culture, nature, flavors, recipes, and you will be able to buy products that will be a souvenir. Handmade ingredients and home-made foods will be very interesting, and organic foods are again the most important options in this bazaar. In short, one of Abant's important stops will be this Bazaar.