Pamukkale is one of the most important stops of enthusiasts, because of the geological activities, it has one of the world's most unique formations. It was one of the most interesting places of Anatolia in the Hellenistic period and attracted attention with its religious and natural beauties. Pamukkale, which is about 22 km far from Denizli city center, has many sightseeing points and now we will guide you to Pamukkale by listing each one for you.

1 - Ancient City of Hierapolis
The ancient city of Hierapolis, which dates back to the 2nd century BC and entered the archeological literature as the Holy City, was built with the order of King Eumenes II of Pergamon. It has been destroyed by earthquakes many times throughout its history. During the Roman Emperor Neron period, the ancient city was almost completely built. During the excavations, the ancient city, such as the Necropolis, Frontius Street, Agora and Apollon were uncovered. Therefore, the ancient city of Hierapolis, both with its vast history and cultural and architectural value, is a popular destination for cultural enthusiasts. Walking around here makes you feel like traveling in history. That's why we can say that Pamukkale is the most important stop of the trip.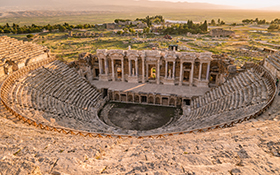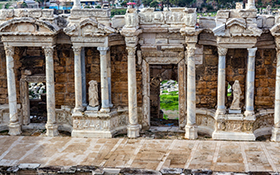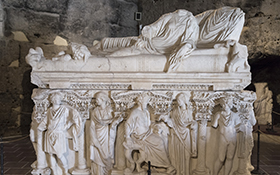 2 - Travertines
When Pamukkale is called, the travertines, which are the reason of the white landscape that is revived in our eyes, are formed by thermal waters coming from 17 different sources. Calcium carbonate, which accumulates as a precipitate, has a white appearance like snow and has created a pleasant space to spend time and has created a great opportunity to take photographs. This iconic area, which comes to mind when Pamukkale is mentioned, must be seen. Today, UNESCO World Heritage Site is one of the places you cannot pass without seeing the wonder of nature.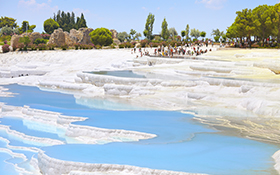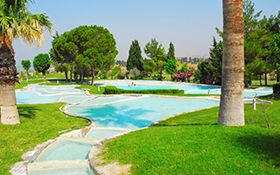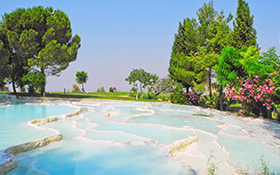 3 - Karahayit Thermal Springs
Karahayit Thermal Springs, located 5 m north of Pamukkale, is known as 'Red Water' due to its intense iron minaret content. The hot springs, especially famous for their effects on the digestive system, have a similar appearance to that of Pamukkale Travertines but have red colored formations. Many accommodation alternatives make the healing spas a good holiday option.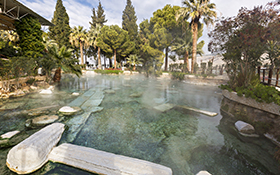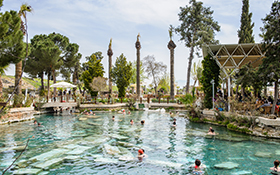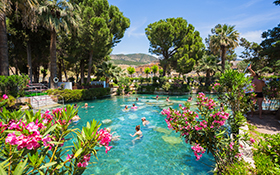 4 - St. Philippe Martyrion Church
Pamukkaleis a region that dates back to quite ancient times. Accordingly, it has countless historical remains, St. Philippe Martyrion Church is one of them. The church, located in the north of the ancient city of Hierapolis, is a religious building that was thought to have been built in the 4th or 5th century AD. The most common myth of the Church is that the tomb of St. Philippe, who came to the region to spread Christianity, was here.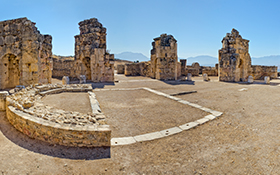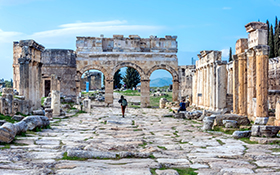 5 - Natural Park
Natural Parkis a part of Pamukkale Ruins and it is a great place to visit and have a great time with its swimming pools, eating and drinking alternatives. On hot summer evenings, this place becomes even more lively and enjoyable. You can have a nice time watching the travertines accompanied by dim lights.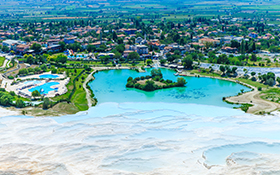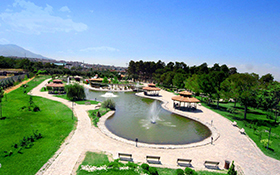 6 - Keklik Cave
Another interesting attraction of the region with high geological value, Keklik Cave contains structures similar to Pamukkale Travertines. For this reason, it is called as Little Pamukkale or Cave Pamukkale. It is also rumored that the sulphurous water drained from the walls of the cave is very good for the skin. With the waterfalls on the north of the cave, this place is a wonderful piece of nature and Pamukkale will be one of the best stops of your trip. Also, you should taste Zafer Mineral Water, which has been producing since 1934 and has almost become a symbolic state when it came to Pamukkale. Local cuisine, which features Aegean cuisine, should definitely be tried. The home textile products of Pamukkale are very famous and you can get such products in many places in the region. You can choose from quite good quality alternatives. The famous Buldan fabric is one of the things you can choose for your shopping.